The complete solution to secure your companies data privacy
CLOUD BASED DATA PROTECTION MANAGEMENT
Focus on your business, we take care of your data protection. Easy access to all your compliance processes and documents in our collaborative cloud environment.
Let us show you how: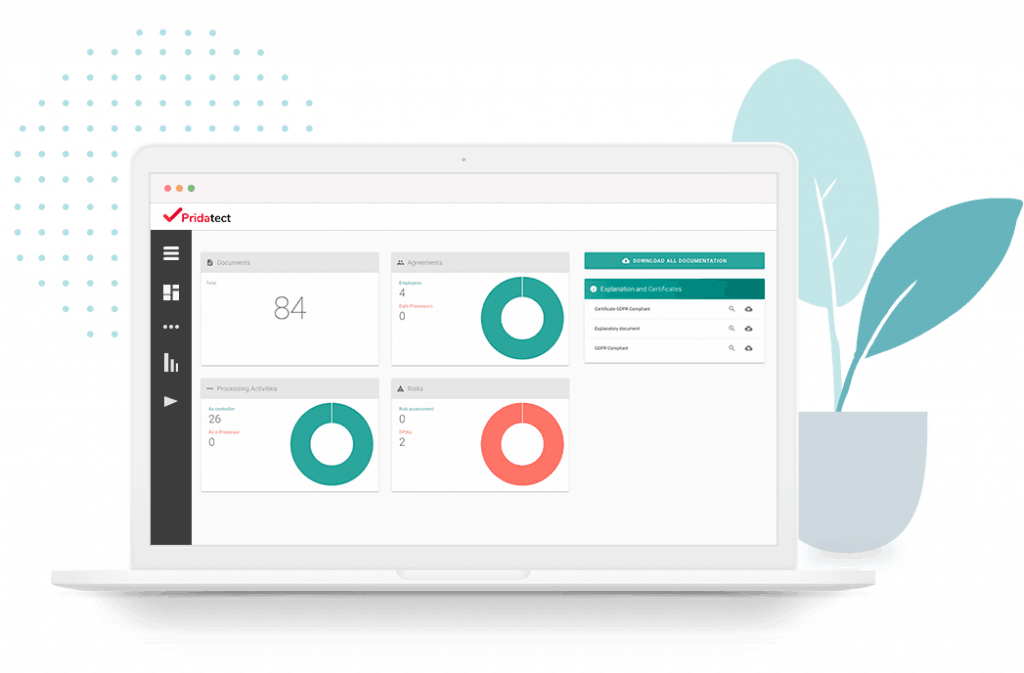 Data Protection Management Simplified
A trusted solution for companies and data protection professionals

Data protection compliance
All required documentation and information available when needed to demonstrate regulatory compliance.

Control over all data processes
Keep total control of all the data your company is managing in a visual and intuitive way.

Legal assisted intelligence
Intuitive data compliance workflows assist your data protection from document automation to PIAs.
Collaborate in our cloud environment
All your data protection managed centralised in one intuitive platform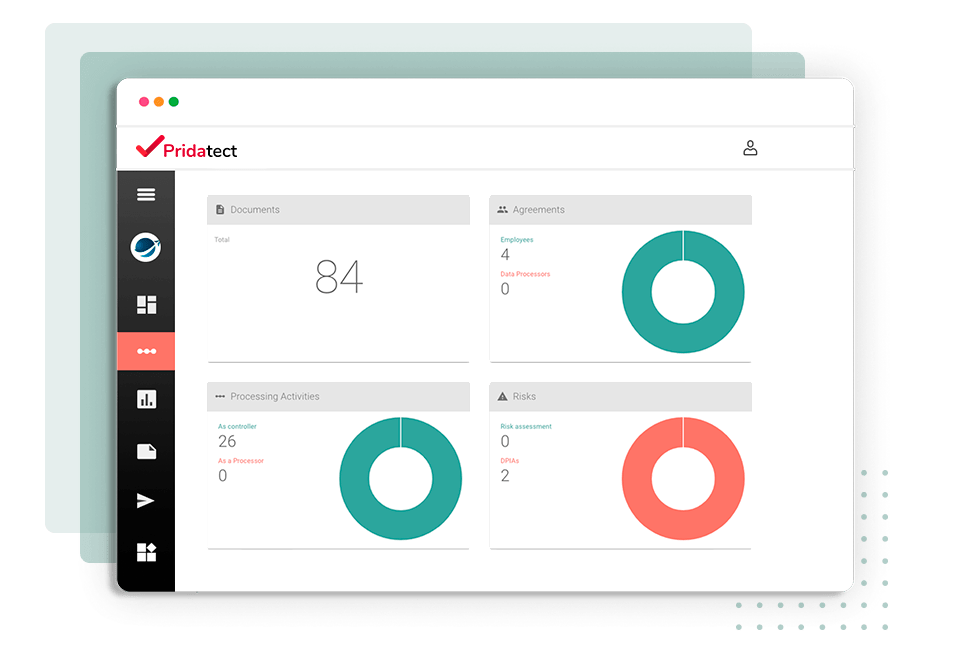 Forget document folders, excel lists and email ping pong. With your own user desk in the Pridatect software you can manage your entire data protection in one place.
Simplified team collaboration
Collaborate with your team members and external collaborators (security consultants, lawyers etc.). Assign regulatory tasks, exchange documents and keep all your processes under control.
Your legal documents and data protection processes are securely stored in our cloud environment.
A virtual data protection officer for your business
Depending on the nature of your data processing activities you might need to assign a DPO especially if you are doing business in Europe. We can help you with our external DPO service, providing you a winning combination: Our legal assistive intelligence software and the trusted service of our data security specialists.
From monitoring regulatory compliance to cooperation with the ICO, if necessary, our full service package has you covered for any data protection incident.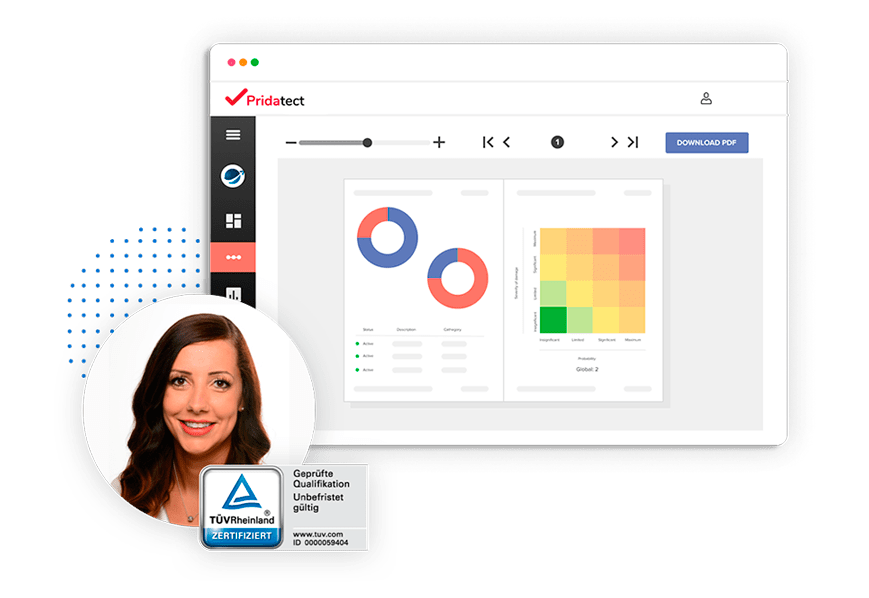 Comprehensive Risk Assessment
Mitigate data protection risks with our complete risk assessment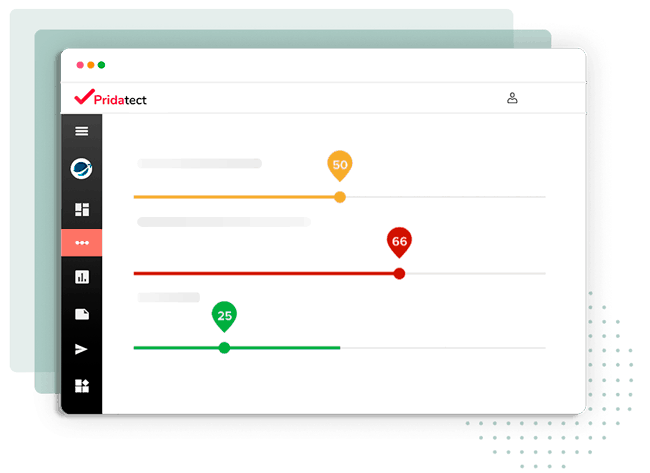 With the Pridatect software you can easily detect data processing risks based on your companies assets with auto-determined probability, impact and risk level.
Risk report with security recommendations
After risk identification you will receive a comprehensive risk report with recommended measures for risk reduction and compliance with GDPR.
The risk assessment provides you with the basis for data protection and legal compliance in your company.
Guarantee Website Compliance
Easily create and update website policies with our online generator 
With our legal document automation and ready-to-use templates you can easily create compliant website policies and update them whenever needed.
We are providing templates and detailed instructions for all documents that you need to guarantee that your website is GDPR compliant.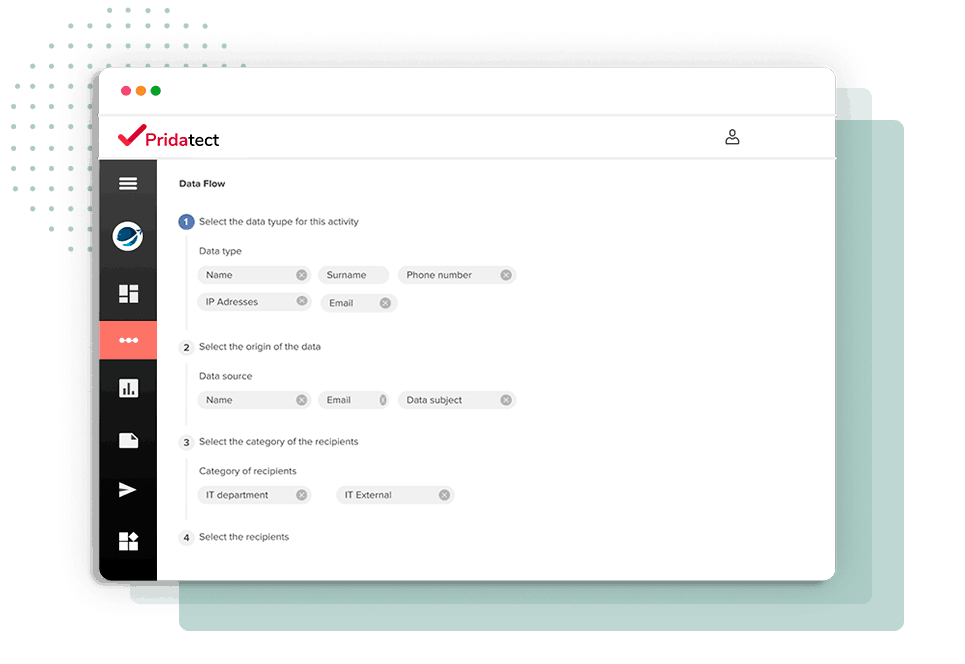 Control all data processes in your company
Mitigate data protection risks with our complete risk assessment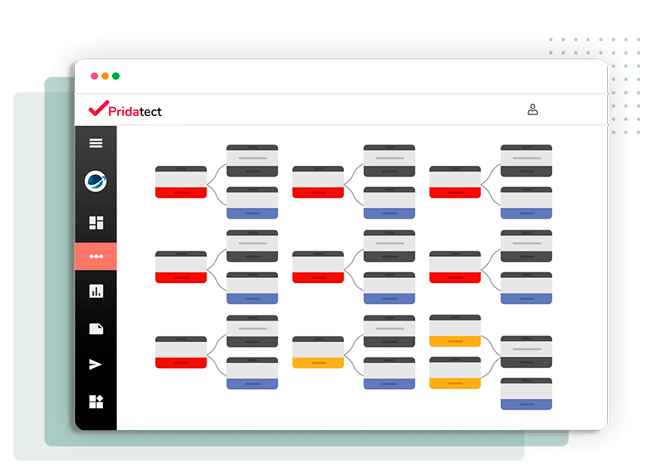 Registry of processing activities
Keep an updated registry of all the processing activities in your company. Pick from our list of most common processing activities or create your own with our assistive workflow. Easy to update and you can generate a report with just one click. 
Registry of data recipients
Minimize your data transfer risks with our intuitive recipient registry, link them to the associated processing activities and implement necessary transfer mechanisms to ensure your company is compliant at all time. 
Based on your processing activities our software generates a visual data map of the data flows in your organisation. Having a good overview of all data movements is great for reporting purposes.
Trusted technology solution for your data protection
Everything you need for a successful privacy program

Risk Assessment
Mitigate data protection risks

TOMs
Define risk reducing technical and organisational measures

Impact Evaluation (PIA)
Automated privacy impact assessments

Privacy Gap Analysis
Identify gaps in your data protection

Processing Activities
Keep an updated registry of processing activities

Subjects access rights
Manage consumer and subject rights requests
International transfers
Manage data transfers internationally

Legal document automation
Create legal documents based on our models
Trusted technology solution for your data protection
Everything you need for a successful privacy program

Informes de privacidad
Genera informes de privacidad automáticamente

Derechos ARCO
Gestiona las peticiones de derechos de accesos y sujetos

Contratos con proveedores
Genera los contratos que necesitas por el RGPD

Automatización de documentos
Crea documentos legales basados en nuestros modelos
Growing companies need a partner who grows with them: "In fact, Gorillas' slogan is "Faster than you".And sometimes that is actually the case. That is why we have to be careful that our compliance efforts and our efforts to establish, build and ensure data protection grow with the company and that we keep pace with the growth.
More than just a software
We are your privacy compliance partner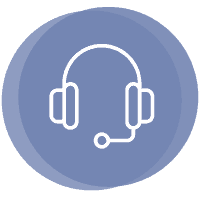 Continuous Support
Our continuous customer support plan with regular contacts ensures that your company stays compliant while growing and changing.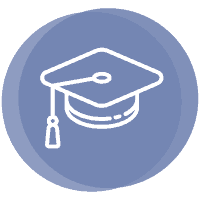 Virtual DPO Service
Do not worry about hiring a DPO: Pridatect offers an external DPO service, which guarantees compliance with the PDPA / GDPR with all necessary services included.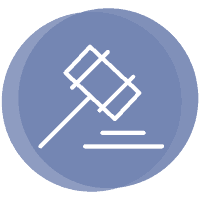 Specialised Legal Services
Special compliance requirements that our software does not cover yet? Our legal team can help in most cases.
Discover how Pridatect can help you in taking control of your companies data protection
Do you have any questions? Get in touch with our sales team.
☏ +1 929-380-2200 | Monday to Friday from 8:00 to 17:00 GMT